---

The wrestling team is having great success on the mat! On Wednesday, January 8 the team traveled to Ellsworth High School for a dual match. The seven teams that attended the meet included WA, Calais, Piscataquis, Mount Desert Island, Ellsworth, Old Town, and Penobscot Valley. The Raider wrestlers had their best matches of the season at the Ellsworth meet with 4 wins and 1 tie. The overall team record for the season is now 12-3. The team is also in the running to qualify for the Maine Dual State Championship meet scheduled on Saturday, February 15 at Fryeburg Academy.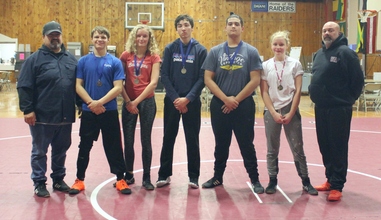 Above (L-R): Coach Lupe, Freshman Kyle Lund, Sophomores Isabel Lamb, Joe Garcia, Aidan Nicholas, Rowan Luuring, and Coach Garcia posing proudly after the meet in Calais on Saturday, January 4.
Junior Petak Dana currently holds the record on the team for most wins season to date. Petak's record is 18-5. This is the first year of competitive wrestling for Petak and he plans to return to the team again as a senior next winter. Petak also played Raider football this past fall.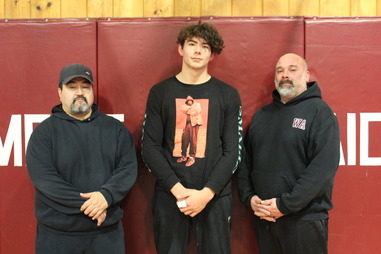 Above: Coach Lupe and Coach Garcia posing with first-year wrestler Petak Dana.
The wrestlers are busy preparing for their next meet scheduled for Saturday, January 11 at Skowhegan High School. On Thursday, January 9 the team's practice included assistance from WA wrestling alums Dave Glidden '10 and Josiah Brown '19. Dave is a 2010 State Champion Runner Up, and Josiah is a 2019 Maine All-State Finalist. The alums joined Coach Lupe and Coach Garcia in coaching and actually participated on the mat with the wrestlers during practice.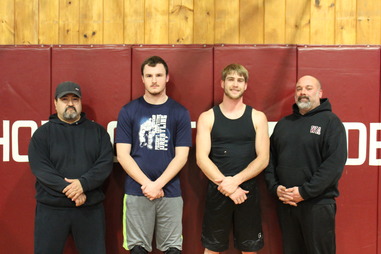 Above: Coach Lupe and Coach Garcia posing with wrestling alums Josiah Brown '19 and David Glidden. '10
Good luck Raider wrestlers on Saturday's meet and special thanks to Dave Glidden and Josiah Brown for sharing their experience!
---

Bangor was filled with Raider Pride this past Saturday! Varsity Head Basketball Coach Dean Preston was promoted from Colonel to Brigadier General of the Maine National Guard at the 240th Regional Training Institute.
Coach Preston is the 2019-20 head coach for the girls and boys varsity basketball teams. His promotion was given at a ceremony on Saturday in front of friends, family members, members of the National Guard, 10 of his Raider basketball players, and WA Athletic Director Blaine Steves. Coach Preston referenced his role of being a coach and his players several times during his promotion speech.
Special thanks to Kelci Williams, Marissa Wood, Raeanah Reynolds, Lucy Kilton, Emma Griffin, Cecil Gray, Daniel Huang, Josh Ketchen, Ezekiel Olivares and Andon Wood for supporting their coach on his special day! What a great representation of the Raider family!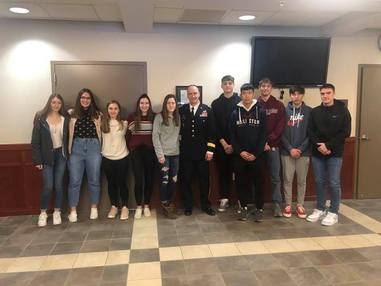 Congratulations Coach Preston!
---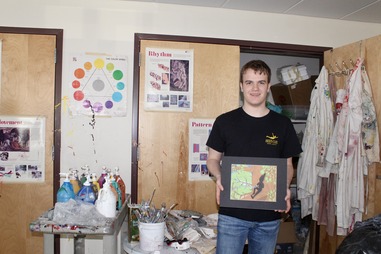 Meet Senior Caleb Brown!
-Ms. O'Leary, Fine Arts Department Chair
Caleb Brown has been a student of mine for the past four years. He has taken Art 1, Art 2, Honors Art (twice) and Digital Art (twice). Caleb works well with any medium but his passion is digital art and animation.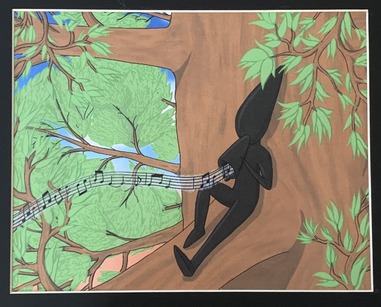 Above: Caleb's digital art piece Whistler In The Woods which took him 8 weeks of class time to complete.
Digital Art and Animation Class is a course that creates art in a virtual reality environment and students learn how to combine artistic elements to create finished pieces that effectively communicate their ideas. Students use Apple pens, iPads and the digital program Sketchbook to create art.
Caleb states, "I want to help the world to learn and I believe that people essentially enjoy visual learning best. He emphasizes his point by saying, A picture tells a thousand words."
Caleb also attends two art clubs offered after school at WA. He has been a consistent member of a core group that meets weekly to discuss art and work together on projects. He has a unique style that is interesting and original. Although Caleb prefers to create art digitally he also enjoys sculpting and sketching with pens and pencils.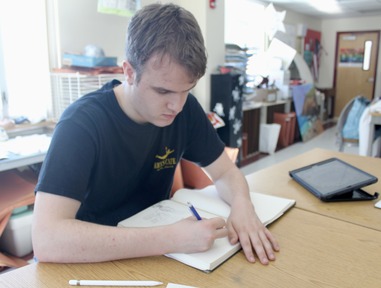 Above: Caleb sketching in his sketchbook during Honors Art Class.
Caleb hopes to attend Savannah School of Design and Animation and continue on his path as a creative thinker.
---



Keep Up With Our Sports Teams
For up-to-date athletic information check out
---