---

Raider swimming has been exhibiting great teamwork during their meets and co-organizing a swim-a-thon fundraiser with members of the Machias Valley Swim Club (MVSC)! On Saturday, January 18, Seniors Zain Fitzsimmons, Jack Han, Sophie Samalova, Juniors Nick Luuring, Shaelea Perkins, Faith Myers, Pheobe Colbeth, Sophomore Noah Carver, and Freshman Brian Dennison swam over 800 laps collectively to raise money for the WA team. They shared the pool with the MVSC swimmers who were also swimming to raise money for their club team. The WA swimmers as a team swam over 24 miles!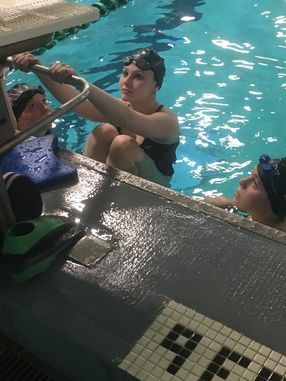 Above: Faith Myers and Pheobe Colbeth preparing for the swim-a-thon fundraiser.
The swim-a-thon isn't the only team effort on the pool deck! Nick Luuring and Noah Carver have been singing the National Anthem at home swim meets and most recently were asked to sing at the Ellsworth Eagles and WA meet at the Downeast Family YMCA in Ellsworth held on Friday, January 17. Earlier this fall these two swimmers auditioned at the All-State Maine Music Festival.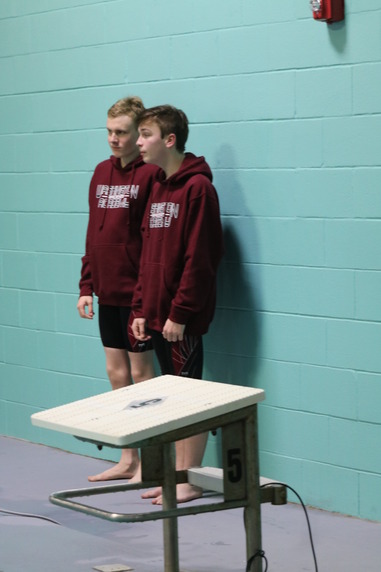 Above: Noah Carver and Nick Luuring singing the National Anthem at the first home meet of the season on Friday, December 20.
Raider swimming this year is led by co-captains Zain Fitzsimmons and Nick Luuring. The two swimmers have swum on WA relay teams together consistently for three years. Zain is a 4-time state qualifier in all of his individual events. Head Coach Rhonda Albee and Assistant Coach Taylor Moses will be traveling with the team this Friday night to the Bangor YMCA where the Raiders will compete against John Bapst!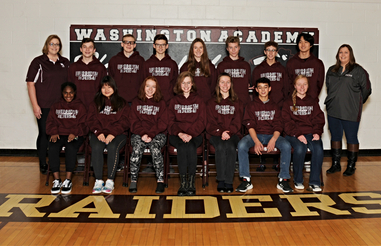 Above Front (L-R): Yunce Wakur, An Tran, Faith Meyers, Phoebe Colbeth, Shaelea Perkins, Rowan Morris, Manager Olivia Perkins Back (L-R): Head Coach Rhonda Albee, Nick Luuring, Noah Carver, Hudson Morris, Sofie Samalova, Theo Holm, Brian Dennison, Jaemin Han, Assistant Coach Taylor Moses Not Pictured: Zain Fitzsimmons
Good luck Raiders and keep up the great teamwork!
---

On Thursday, January 23, twenty five music students and WA music teacher Mrs. Atkinson participated in the District 6 Music Festival at Ellsworth High School. The festival is held annually and hosts the strongest musicians from area schools from Calais to Brewer.
Mrs. Atkinson was proud to send 9 band students and 16 chorus students. She warmly remarks, "It is a record number of WA participating students, and I was excited to see them learn, practice, and perform all in one day!"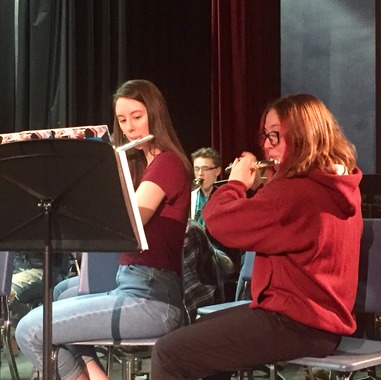 Above (L-R): Junior Sophie Bragg and Freshman Luna Lord practicing at the festival.
Student musicians had the tremendous opportunity of working with guest conductors. The all-day learning and performing experience concluded with an elegant concert in the Ellsworth High School Performing Arts Center.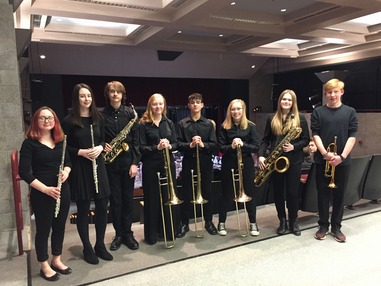 Above: Band members posing before the evening concert.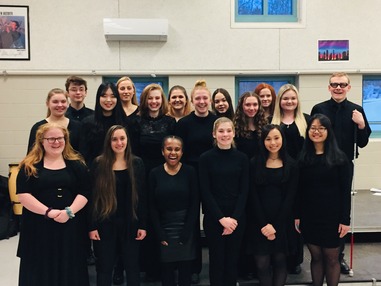 Above: Members of the WA chorus posing before the evening concert.
Congratulations to the following students for their outstanding musical performances, Sophie Bragg, Noah Carver, Pheobe Colbeth, Grace DeSantis, Siobhan Duffy, Roy Duffy, Riley Fraser, Arthur Ingalls, Eunseo Lee, Luna Lord, Mikaila Loughlin, Nick Luuring, Hannah Maker, Rowan Morris, Sarah Neal, Khanh Nguyen, Mikayla Oakes, Olivia Perkins, Lexus Renaud, Cora Sanchez, Morgan Schwinn, Heather Seeyle, Kaitlyn Smith, Kali Sternberg, Jacomina Tanggahma, Michon Whitney, and David Zegers!
---

Ryan Conley is having a busy senior year! This fall he began job shadowing registered nurses at Down East Community Hospital. Ryan reports to the hospital every Monday and Friday mornings to shadow and then returns midmorning to WA for his academic classes. In addition to shadowing in the emergency room and the operating room, he answers hospital call bells and provides assistance to patients as a Certified Nursing Assistant (CNA).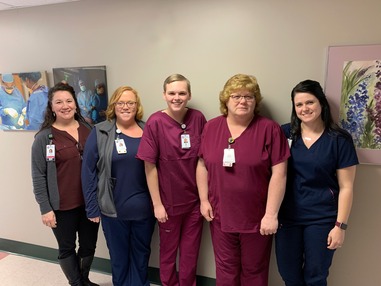 Above (L-R): Tara Matthews DECH Director Med/Surg/Peds/OB/Infusion Clinic, Megan Patterson RN, WA Senior Ryan Conley, Connie Sylvia CNA, and Brandee Hall RN posing before a shift.
Ryan received his CNA certificate after completing the year-long WA Certified Nursing Program during his junior year. His inspiration to become a nurse began with his mother who is a DECH RN and all of the time he spent during his childhood at the hospital.
The opportunity to job shadow at DECH was coordinated by Ryan and WA Guidance Director Mrs. Morris. Ryan confidently remarks about the experience, "I think my shadowing hours are being well spent as they are preparing me for my future and my educational plans."
Ryan is a well-rounded student and very civic-minded. He is the 2018 and 2019 recipient of the WA Citizenship Award. Throughout his years at WA, he has been elected to various student government offices, organized many fundraisers for meaningful community causes, and led school change as a member of the WA Student Council.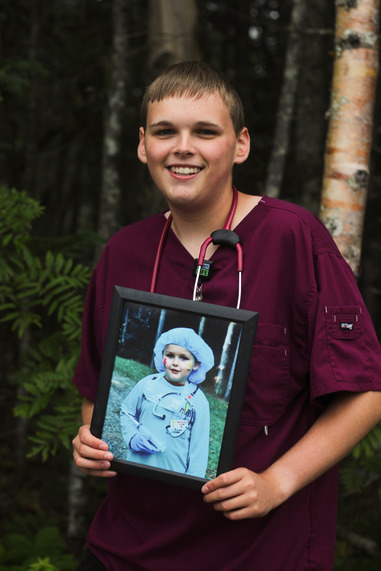 In December, Ryan was accepted into the University of Massachusetts (UMASS) at Boston, School of Nursing. He will be attending UMASS in September to pursue his Bachelor of Science in Nursing (BSN). Good luck, Ryan!
For more information about the WA CNA Program and a DECH Internship please visit Health Occupations /WA Program of Studies or view the WA CNA Spotlight Video.
---



Keep Up With Our Sports Teams
For up-to-date athletic information check out
---