WA Math Team Clinches League Championship!


---

The Washington Academy Math Team is the 2020 champion of the Downeast Math League! The league competition is comprised of 10 area high schools. The team has been meeting once a week since September practicing for league meets throughout the year. On Wednesday, March 4, the team clinched the championship at their last regular-season meet.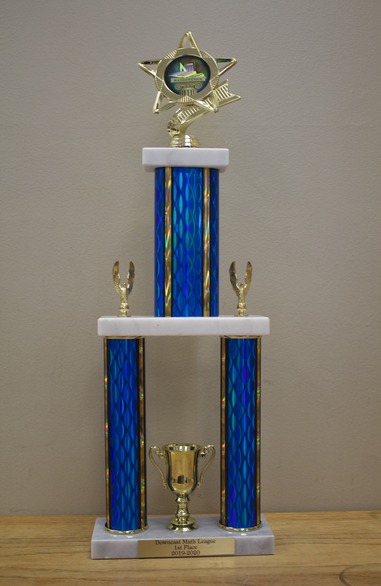 Individual awards were also given to competitors that evening. Tina Pham won 1st place for all sophomores. Nam Nguyen won 2nd place and Khang Cao won 1st place for seniors. Coaches Mrs. Strand and Mr. Williams are proud of the team's outstanding performance as well as their demonstration of kindness and good sportsmanship exhibited at the meets.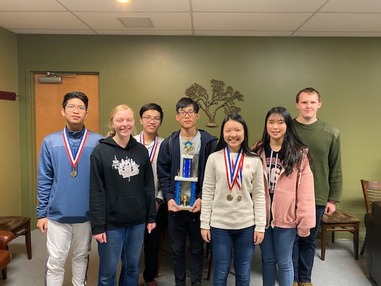 Above: (L-R) Senior Khang Cao, Junior Olivia Perkins, Senior Nam Nguyen, Senior Hung, Sophomore Tina Pham, Junior Eunseo Lee and Senior Dakota Geel posing with the championship trophy!
The math team is comprised of students who are interested in mathematics. Members of the team encourage students to join them even if it is just to improve their math skills. In the fall, Mrs. Strand was so impressed with senior Dakota Geel's math skills during her AP calculus class that she invited him to join the team. It is Dakota's first time joining an afterschool club, and Mrs. Strand proudly remarks about his team performance, "Dakota has been a solid performer at meets and the anchor of the team. His performance proves that it's never too late to join a team and be a huge part of success!"
The entire team will be competing at the state championship math meet at the Augusta Civic Center on Tuesday, March 31. The state meet consists of individual rounds, team rounds, and a math relay. Good luck Dakota Geel, Eunseo Lee, Olivia Perkins, Hung Chu, Anh Nguyen, Nam Nguyen 1, Khanh Nguyen, Tina Pham, Nam Nguyen 2, Khang Cao, An Tran, and Kaitlyn Smith.
Students interested in joining the 2020-21 Math Team should contact Mrs. Strand or Mr. Williams in the fall.
---

When you walk into Mr. McBrine's period 1 game design class, you will see a row of computers and sophomore Keenan Gray testing the virtual reality (VR) mechanics of Unreal Engine, a 3D game design software. Behind him, senior Ethan Mason is demonstrating how his digital art character battles his way through Ogre, a world filled with obstacles and enemies he is creating. Mr. McBrine states, "It's just a different type of classroom, students are allowed to be creative and problem solvers."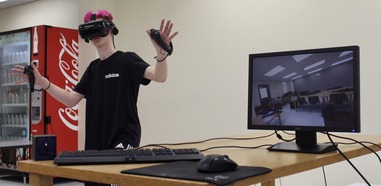 Above: Sophomore Keenan Gray testing the VR mechanics of his newly created game.
Students in this computer-lab-turned-mini-software-company, spend the entire course working individually or with partners developing 2D and 3D games that teach educational concepts of their choice, they utilize the critical thinking needed to understand and communicate to players what is typically difficult to teach about a subject.
Game Design students learn transferrable skills such as proposal writing, storyboarding, software coding, animation and follow a development plan similar to those used in the commercial gaming industry. Senior Caleb Brown, a digital art class student, enjoys the opportunity to tie his art skills into his game designs.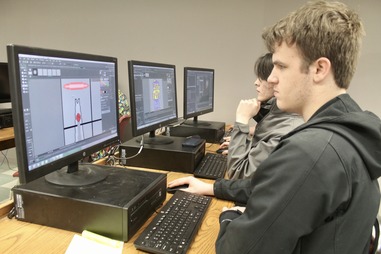 Above: Senior Caleb Brown designing a game.
Mr. McBrine also states, "I believe there is talent everywhere, and if we cultivate it, we will see many students pursuing careers in technology, game design, and digital art fields!"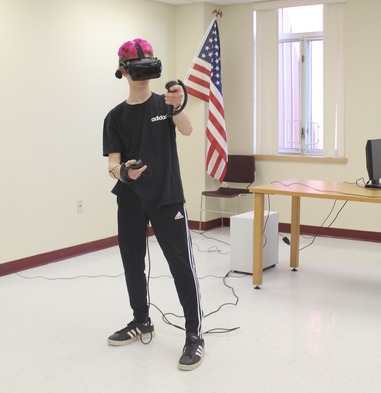 Above: To watch Keenan Gray play his game using virtual reality goggles, please visit Game Design!
---

On Friday, March 6, Washington Academy ladies were treated to floral deliveries from seniors Kisten Kilton and Ryan Conley. The flowers were provided by Expressions, a local florist shop in Machias, to honor women on International Women's Day. Each floral arrangement was delivered with a card that stated, "Thank you for all that you do."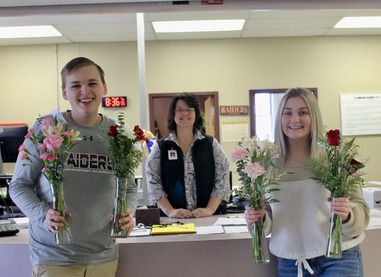 International Women's Day was celebrated on Sunday, March 8, as a day to recognize women and their achievements world-wide. The idea to deliver flowers to the women at WA was discussed during a recent student council meeting. Ryan and Kisten then proposed the idea to Expressions owner Sandi Malagara.
Ryan and Kisten worked for two days arranging 72 vases of flowers, writing out cards, and transporting and delivering the arrangements to WA. They have been involved in many community service projects during their 4 years at Washingon Academy. Ryan has been the recipient of the WA Citizenship Award in 2018 and 2019.
Kisten warmly remarks about this project, "I really enjoyed the reaction of the ladies when we handed them their flowers. This is what community service is all about, making a difference in someone's day!" Thank you, Ryan, Kisten, and Expressions for doing just that!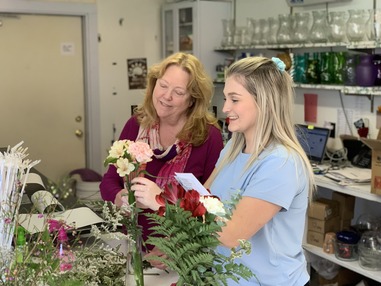 Above: Sandi Malagara and Kisten Kilton working on floral arrangements to celebrate International Woman's Day.
---




Keep Up With Our Sports Teams
For up-to-date athletic information check out
---