---

Senior Taylor Bridges has participated in many WA activities and athletic programs over the past three and a half years, but this winter she tried something new and came away with a State Championship Title! On Wednesday, February 19 Taylor wrestled two rounds against veteran female wrestlers in a 138-pound weight class at the Maine State Girls Wrestling Championship held at Windham High School.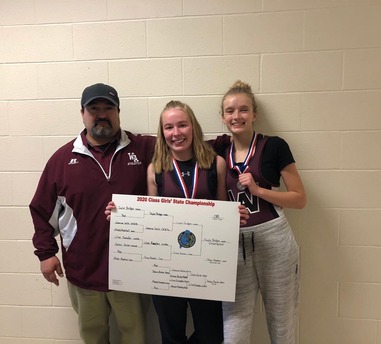 Above: (L-R) Head Coach Lupe Soto posing with State Champion Taylor Bridges and Runner-Up Izzy Lamb!
Taylor joined the WA wrestling team this year because she was curious about the physicality of the sport. Taylor remarks, "I joined the United States Marines last July and became interested in the training and conditioning of wrestling as it relates to my future as a Marine." She added, "I also joined because I have a number of friends on the team." Taylor is one of three girls on the growing team. Her teammate Sophomore Izzy Lamb picked up the Runner-Up Title in the 113-pound weight class and Sophomore Rowan Luuring also qualified for the State Championship event.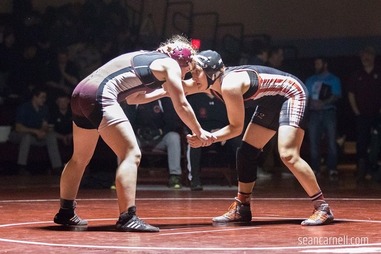 Above photo courtesy of Sean Carnell

Taylor warmly remarks about her win, "My coach always told me as a first-year wrestler to use my bulk and muscle to win because my technical skills were still being honed." When she compares being a member of the wrestling team to her experiences as a member of Raider soccer, cheer, tennis and basketball teams Taylor states, " Wrestling is more individual minded and requires you to anticipate every move 10 seconds before it happens."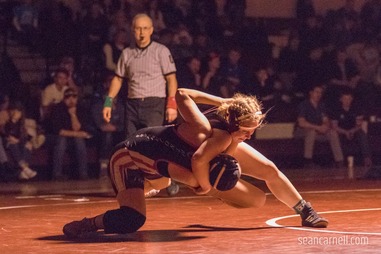 Above photo courtesy of Sean Carnell
In addition to participating in Raider athletics, Taylor is a member of the WA band and chorus, as well as vice president of the student council. She is looking forward to returning to the tennis team this spring with hopes to head to finals with her doubles partner Senior Kisten Kilton.
Taylor will begin her future with the US Marines this summer and has a long term goal of becoming a lawyer.
Congratulations Taylor!
---

The Second Quarter Awards Assembly was held on Thursday, February 13. Students were recognized for honors (all A's and B's) and high honors (all A's). Classmates congratulated each other in unison with the traditional 1 clap for freshmen award recipients, 2 claps for sophomores, 3 claps for juniors, and 4 claps for seniors. Students from each grade were also honored for December and January for academics, citizenship, and kindness chosen by teachers.
Academic Award Recipients for the month of December are Freshman Sarah Moulton, Sophomore Keira Mendoza, Junior Khanh Ngoc Bao Nguyen, and Senior Lan Phuong Pham.
January Academic Award Recipients are Freshman Isaiah Olivares, Sophomore Kaitlyn Smith, Junior Chloe Lyford, and Senior Vu Hang Duyen Le.
Citizenship Award Recipients for the month of December are Freshman Tyler Tibbetts, Sophomore Tina Pham, Junior Paige Bell, and Senior Alexander Maker. January citizenship award recipients are Freshman Seth Wilcox, Sophomore Andon Wood, Junior Samuel Perkins, and Senior Marek Veal.
Kindness Award Recipients for the month of December are Freshman Luna Lord, Sophomore Riley Berry, Junior Kylie Atkinson, and Senior Cartwright Blanchet. January kindness award recipients are Freshman Alissa Willey, Sophomore Phoebe Colbeth, Junior Nicholas Luuring, and Senior Arthur Ingalls.
WA Employees of the Month were chosen by students and parents. Employee recipients include Career Technology and Math teacher Mr. Brian Campbell, Science teacher Mr. Chris Sunde, Administrative Assistant Mrs. Ann Brown, History teacher Mr. Dylan Jennings, English teacher Mrs. Paula McBrine, Administrative Assistant Ms. Kelly Donaghy, Science teacher Mrs. Colleen Maker, and School Librarian Mrs. Arlene Porter.
Congratulations to all of our award recipients!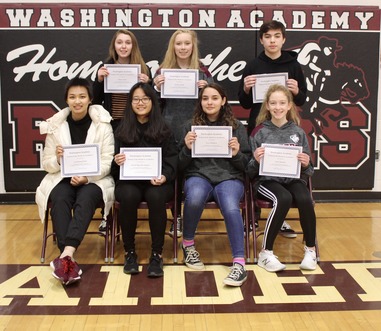 Above:(L-R) Academic Award Recipients Front Row: Lan Phuong Pham, Khanh Ngoc Bao Nguyen, Keira Mendoza, and Sarah Moulton.Back Row: Chloe Lyford, Kaitlyn Smith, and Isaiah Olivares. Not Pictured: Vu Hang Duyen Le.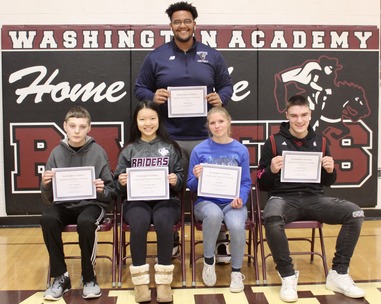 Above:(L-R) Citizenship Award Recipients Front Row: Tyler Tibbetts, Tina Pham, Paige Bell, and Andon Wood. Back Row: Marek Veal. Not Pictured: Alexander Maker, Seth Wilcox, and Samuel Perkins.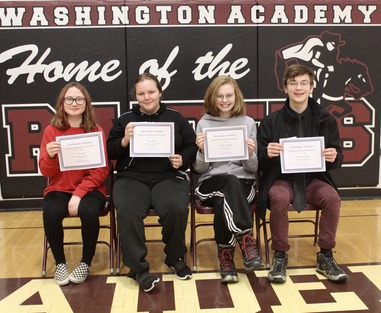 Above:(L-R) Kindness Award Recipients Front Row: Luna Lord, Alissa Willey, Phoebe Colbeth, and Nicholas Luuring. Not Pictured: Riley Berry, Kylie Atkinson, Cartwright Blanchet, and Arthur Ingalls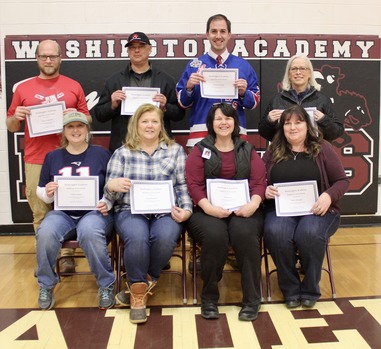 Above:(L-R) Employee of the Month Recipients Front Row: Mrs. Colleen Maker, Mrs. Paula McBrine, Mrs. Ann Brown, and Ms. Kelly Donaghy. Back Row: Mr. Brian Campbell, Mr. Chris Sunde, Mr. Dylan Jennings, and Mrs. Arlene Porter.
---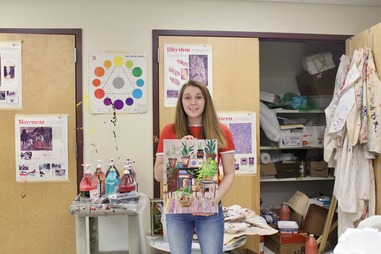 Meet Chloe Lyford!
Chloe is a junior who took Art 1 her first semester with Mrs. O'Leary. This foundation studio class helps students to develop and improve their artistic skills and practice self-expression. Students learn and apply the fundamentals and principles of art and design.
This is Chloe's third year at Washington Academy and I had the pleasure of meeting her for the first time this fall in my Art 1 class. After seeing her initial work I was immediately taken aback and very excited by her talent and ability. Her style leans toward realism and impressionism. She paints what she sees often recreating real scenes or settings. Chloe is often inspired to paint from her own photographs. Her passion for photography and her dog, Chase, inspired her painting of him.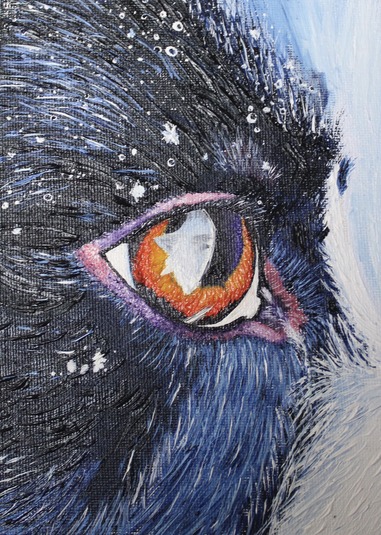 Above: Chase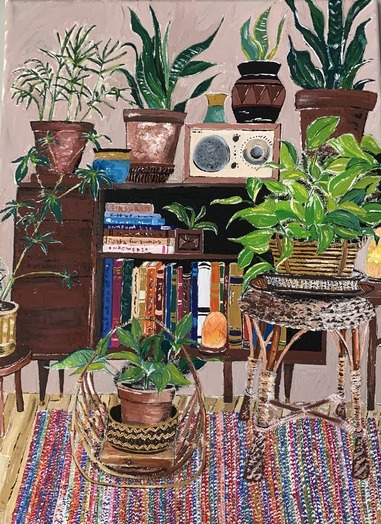 Above: Stillife
During Art 1 class Chloe worked with oil paints which are very advanced for a first-year art student. She also became very involved with a senior project which included painting the eyes of students from the Class of 2020 from photographs. This fun project is a year-long art effort that will allow seniors to take the painting of their eyes with them when they graduate.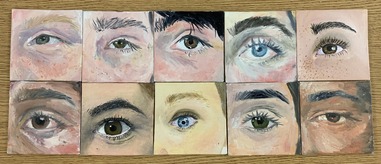 Above: A collaborative senior eye project in oils. Artists include Chloe Lyford, Nia Aretakis, Riley Fraser, Vivian Noakes, and Kaia Smith.
Chloe is a very creative artist with original ideas. I will be excited to see her in Honors Art next year as I feel her creativity and natural ability will continue to grow!
-Mrs. O'Leary
Chloe's work will be displayed in the Fine Arts display case in the Gardner Gymnasium during the month of March. Stop by and check it out! Congratulations Chloe!
To learn more about the Washington Academy Visual Arts Program please visit WA Visual Arts.
---




Keep Up With Our Sports Teams
For up-to-date athletic information check out
---