---

The first quarter awards assembly was held on Tuesday, November 26. Students were recognized for honors (all A's and B's) and high honors (all A's). Classmates congratulated each other in unison with the traditional 1 clap for freshmen award recipients, 2 claps for sophomores, 3 claps for juniors, and 4 claps for seniors. Students from each grade were also honored for September, October, and November for academics, citizenship, and kindness chosen by teachers.
Academic award recipients for the month of September are Freshman Tehya Murdaugh, Sophomore Phebe Dean, Junior Chloe Alley, and Senior Bishmita Dahal. October academic award recipients are Freshman Jason Prenier, Sophomore Rowan Morris, Junior Natacha Griffin, and Senior Jong Hyeok Park. November academic award recipients are Freshman Eli Appleby, Sophomore Siobhan Duffy, Junior Daniel Huang, and Senior Grayson Lanham.
Citizenship award recipients for the month of September are Freshman Isabel Cates, Sophomore Noah Carver, Junior Heather Seelye, and Senior Mikaila Loughlin. October citizenship award recipients are Freshman Kauai Evans, Sophomore Keenan Gray, Junior Michon Whitney, and Senior Ryan Conley. November citizenship award recipients are Freshman Brian Dennison, Sophomore Aviva Bridges, Junior Tyler Look, and Senior David Flores-Vargas.
Kindness award recipients for the month of September are Freshman Kara Lyford, Sophomore Wren Fraser, Junior Caleb Campbell, and Senior Nia Aretakis. October kindness award recipients are Freshman Noah Roos, Sophomore Hannah Maker, Junior Juhyeong Cho, and Senior Zain Fitzsimmons. November kindness award recipients are Freshman Landen Farrell, Sophomore Landon McBrine, Junior Alexandria Morgan, and Senior Christopher Davenport.
WA employees of the month were chosen by students and parents. Employee recipients include, Career Technology teacher Mr. Shawn Schmitter, Accounting Specialist Ms. Nicole Baker, Math teacher Mrs. Robbi Chaponis, English teacher Mr. Luke Cunningham, Math teacher Mrs.Sarah Strand, Physical Education teacher Mrs. Amy Simmons, School Nurse Mrs. Heidi Schwinn, Science teacher Mr. Don Sprangers, Music teacher Mrs. Bonnie Atkinson, Spanish teacher Ms. Esther Kempthorne, Jobs for Maine Graduates teacher Mrs. Rebecca Lenfestey, and Special Education teacher Mrs. Kirby Murphy.
Congratulations to all of our award recipients!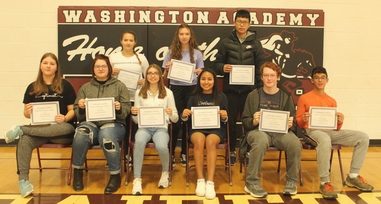 Above:(L-R) Academic Award Recipients Front Row: Tehya Murdaugh, Phebe Dean, Chloe Alley, Bishmita Dahal, Jason Prenier, and Rowan Morris. Back Row: Natcha Griffin, Siobhan Duffy, and Daniel Huang. Not Pictured: Jong Hyeok Park, Eli Appleby, and Grayson Lanham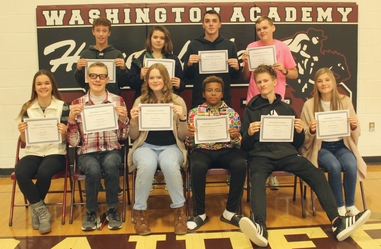 Above:(L-R) Citizenship Award Recipients Front Row: Isabel Cates, Noah Carver, Heather Seelye, Kauai Evans, Keenan Gray, Michon Whitney Back Row: Brian Dennison, Aviva Bridges, Tyler Look and Ryan Conley. Not Pictured: Mikaila Loughlin and David Flores-Vargas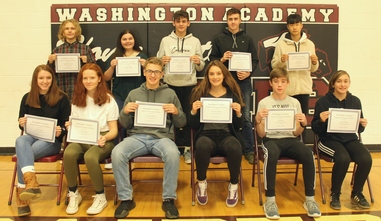 Above:(L-R) Kindness Award Recipients Front Row: Kara Lyford, Wren Fraser, Caleb Campbell, Nia Aretakis, Noah Roos, and Hannah Maker. Back Row: Christopher Davenport, Alexandria Morgan, Landen Farrell, Zain Fitzsimmons, and Juhyeong Cho. Not Pictured: Landon McBrine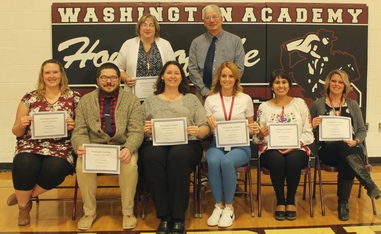 Above:(L-R) Employee of the Month Recipients Front Row: Mrs. Robbi Chaponis, Mr. Luke Cunningham, Mrs. Sarah Strand, Mrs. Amy Simmons, Mrs. Esther Kempthrone, and Mrs. Kirby Murphy. Back Row (L-R): Mrs. Rebecca Lenfesty and Mr. Don Sprangers
---

If you walk into Mr. Libby's 4th-period Math Foundations class you will see numerous marshmallow and toothpick models. These models have been created by students as a part of an annual project called The Platonic Solids Project. The project was originally introduced in 2017 and continues to be a favorite with students.
Instead of the typical pencil and paper geometry lesson, The Platonic Solids Project allows students to actually create a model with their hands reinforcing 3-dimensional geometric concepts.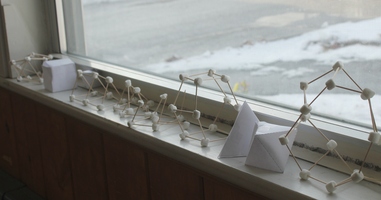 According to the WA Math Department Chair, Mrs. Robbi Chaponis the students are learning how to identify solids by their faces, vertices, and edges. During the final stage of the project, students are creating the five platonic solids: Tetrahedron, Cube, Octahedron, Dodecahedron, and Icosahedron. The hardest of these to create, the Dodecahedron, is comprised of twelve pentagonal faces. The Dodecahedron challenges the students to keep the 12 faces intact while the marshmallows harden.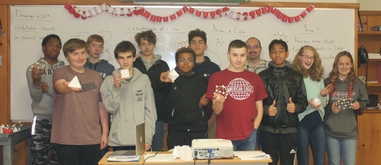 Congratulations to Mr. Libby's Math Foundations students on the completion of this impressive geometry project!
---

This December the WA Kindness Tree is in full bloom once again. Multi-colored sticky notes of kind words and inspirations simulate tree leaves on a WA bulletin board.
This tradition was started in 2017 by the WA Student Council students advised by Mr. Holmes. This month Spanish teacher Mrs. Kempthorne and Science teacher Mr. Sprangers have been encouraging students to write kind notes about one another and post on the tree during the holiday season.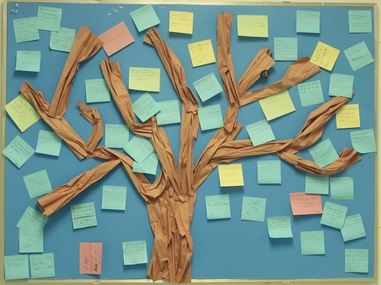 English teacher Mrs. Mercer is also encouraging student kindness during this holiday season with a Light the World wall outside of her classroom. Mrs. Mercer warmly states, the wall outside my classroom reflects an initiative that's been gaining ground for a few years called Light the World.
The idea is to do some act of service or kindness for others. Instead of thinking, "What will I get for Christmas?" the hope is to turn people's thoughts to question, "What can I do for others at Christmas?" The effort uses the hashtag: #lighttheworld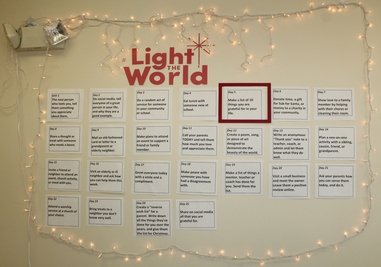 I've seen students reading the wall and discussing some aspects. If they'll do them or not, I don't know. I'm not forcing it on them; I just wanted to give them an idea that maybe the season doesn't need to be focused on them, but on those around them. Those who try some of the suggestions will hopefully find this season more meaningful and uplifting.
- Mrs. Mercer
---


Keep Up With Our Sports Teams
For up-to-date athletic information check out
---