---

Have you been wondering what students have been up to while they have been sheltering in place? Last week, WA requested students to send photographs of themselves from home participating in their favorite activities. Two of the most challenging aspects of staying at home during a world-wide pandemic is remaining busy and not being able to visit with friends.

Despite the overnight snowstorm, students are taking advantage of the spring weather and enjoying the natural beauty of the local landscape. Junior Griffin Dedmon remarks, "I think we are lucky that the stay at home order happened now, because we are starting to see the outdoors become more accessible with every passing day, and that's a massive resource when you are trapped in your house. I miss my friends, my school, and interacting socially, These are really unique times, you just have to keep moving between activities."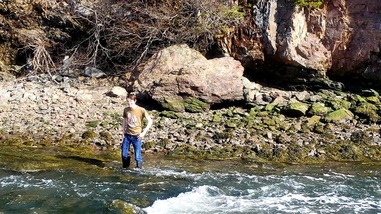 Above: Junior Griffin Dedmon staying close to home and enjoying Jasper Beach.
Students are also spending time with family members playing games, doing home repairs, and planting gardens. Freshman Summer Balyint states, "My family has been staying busy on a schedule during the day. When we can't get outside, we do puzzles, read books and watch movies together. I am still learning daily through distance learning but I miss my friends."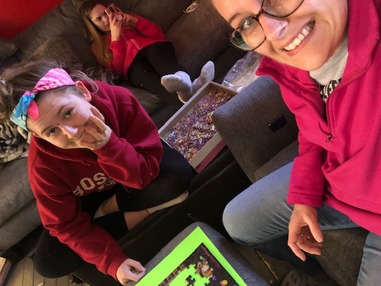 Above: Freshman Summer Balyint enjoying the challenge of a good puzzle with her family.
Senior Zain Fitzsimmons is using his extra time at home learning to cook. Cooking is an important skill and interest for his family and he is typically too busy with academics and athletics to participate. Zain remarks, "It is a good time to learn a new life skill such as cooking. I have found it to be a lot of fun and it will be useful next fall when I go away to college."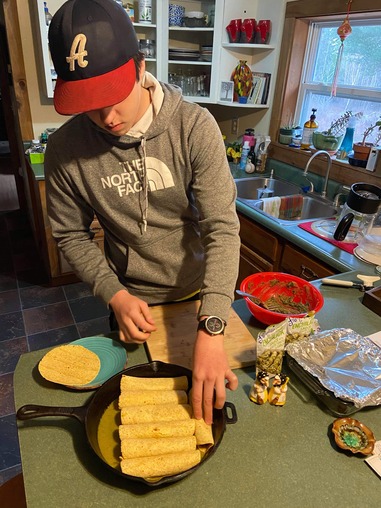 Above: Senior Zain Fitzsimmons learning how to make green chile enchiladas.
Raiders Rally at Home is a video created to let students know that the WA staff and faculty care about how they are spending their time away from school. The video is also a great opportunity to share activity ideas through the use of student photography.
To watch the video please visit Raiders Rally at Home on the Washington Academy Facebook page.
Students are encouraged to send their photos to developmentoffice@washingtonacdemy.org
---

Everyone who knows English instructor Mrs. Mercer also knows her passion for writing and a good story. Her latest story has been written with love and creatively told using her own photography and vivid imagination.
Presenting a Typical Day at WA - Because I've been missing our students I took a walk around campus on one of the nice days we had last week. Even though the sun was out, the campus was bleak and lonely. Eventually, I stood at the football field and hearing only the occasional squeaking of the goalposts in the breeze, realized I needed to change the feel of the area or I'd get too depressed. I imagined it with students populating the fields, jamming the parking lot, filling the classrooms, and then for some reason, Lego figures popped into my head.
I spent 4-5 days with my daughter's help making new mini-figures, setting them up in positions, then photographing them with various settings to get the perspective and lighting correct, then I spent about an hour each evening editing.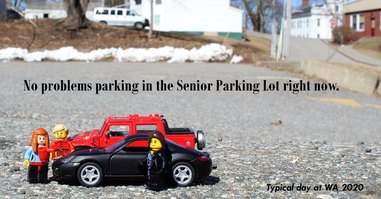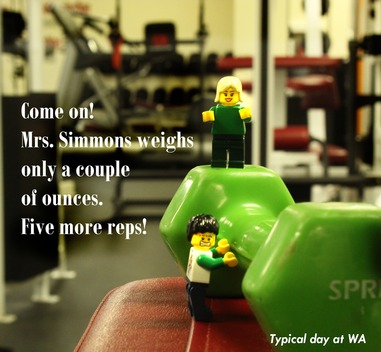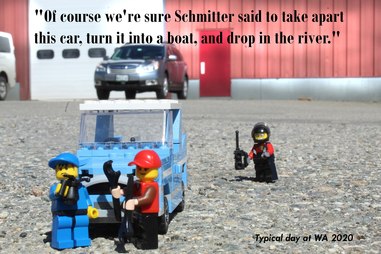 The story took me about 20 hours to complete. It was a hugely fun weekend project that gave me something completely different to do. - Mrs. Mercer
Mrs. Mercer has always loved photography. She purchased a DSLR camera a year ago and has had a lot of fun learning how to use it. As a writer, she has photographed and designed all of her book covers. Mrs. Mercer states, "sometimes an illustration and written word complement each beautifully, but only for a few imaginations."
In the case of Typical Day at WA, the illustration and written word complement one another perfectly and absolutely puts a smile on every Raider's face!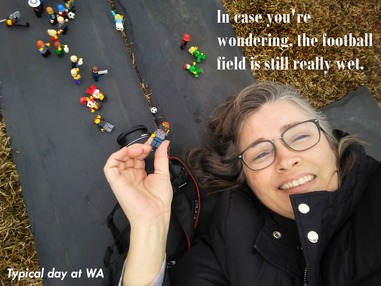 To view Mrs. Mercer's visual story please visit
---

Jobs for Maine Graduates (JMG) instructor Mrs. Lenfestey is being creative with her distance learning assignments! She has found the scavenger hunt app goosechase and incorporated distance learning themes as interactive assignments for her JMG students.
Common Sense Education (an independent non-profit organization dedicated to helping students excel in media and technology) states that goosechase is an excellent educational tool to increase student engagement and enhance learning. Mrs. Lenfestey created a title for her students' hunt, assigned fun missions for them to complete, and assigned point values for each mission. Students receive points for each mission completed and the app is even designed to take points away if missions aren't completed.
JMG students are allowed to submit photos and videos to complete their missions. Mrs. Lenefesty's missions include Raider Pride, A Little Fresh Air, Spare Time, Pet Friendly, Here's Your Sign, Make Me Laugh - Portrait of Lenfestey, Lift Me Up, Social Distancing Wardrobe - How Does This Look? Virtual College Tours and more.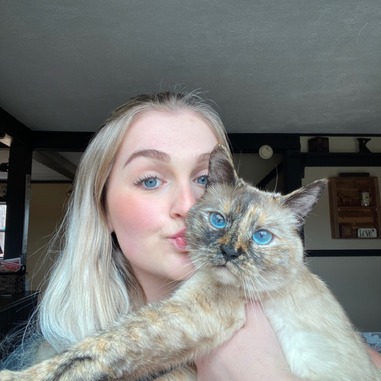 Above: Senior Kisten Kilton being pet friendly.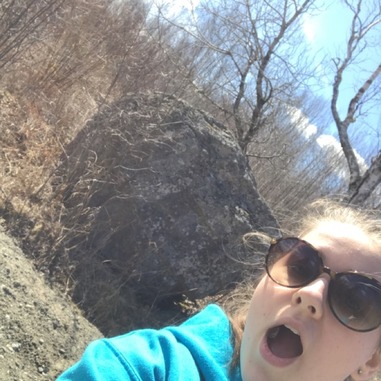 Above: Senior Aeva Pressley getting a breath of fresh air.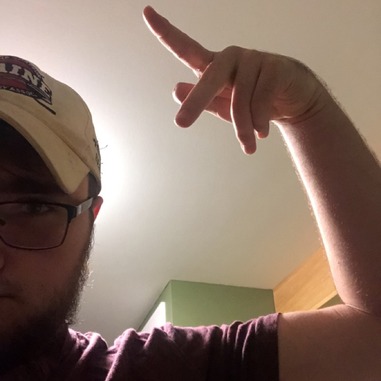 Above: Senior Noah King showing a little Raider Pride.
Mrs. Lenfestey states, "The inspiration behind goosechase is giving students a unique and hands-on way to complete educational tasks. JMG Specialists prefer this method to deliver learning activities and instruction. My goosechase missions provide education and also the encouragement to take time for self-care during the crisis we are currently facing as a nation. When I started receiving the submissions from my students I started laughing out loud and crying all at the same time. It made me realize how much I miss my students!"
To learn more about the Jobs for Maine Graduates class please visit the
To create your own scavenger hunt and learn more about goosechase please visit goosechase.com
---


---