---

Summer is coming to an end, however, 4-H Tech Changemaker students continue to harvest from the WA garden! The group has been busy the entire summer working in partnership with the University of Maine 4-H Co-Operative Extension and Healthy Acadia Master Gardeners.
One of the goals of the 4-H Tech Changemaker Program is to cultivate a community's ability to use technology as a force to lead change in their communities. WA students have had this opportunity with their involvement in planting and harvesting a 3,000 square foot garden. 4-H Extension Professor Jen Lobley works with the students weekly to address food insecurity in the local community.
The garden was planted early last spring with the help of Modern Day Apprenticeship (MDA) students. These students, led by MDA teacher Mr. Campbell built wood frames for the raised beds of vegetables, herbs, and perennial flowers that have grown in the garden.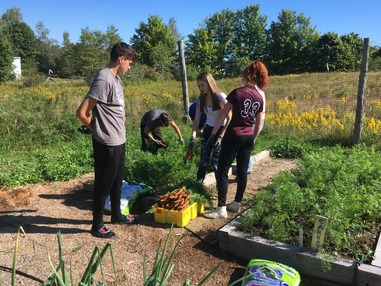 Changemakers at work!
During late spring and summer months, the students have been weeding, learning about the importance of proper irrigation, harvesting, and volunteering to distribute produce to the Machias food pantry. Harvesting continues to occur every Monday morning from 9:00 a.m. to 11:00 a.m. and a delivery is made to the pantry in the early afternoon. Students are looking forward to continuing their efforts through mid-October.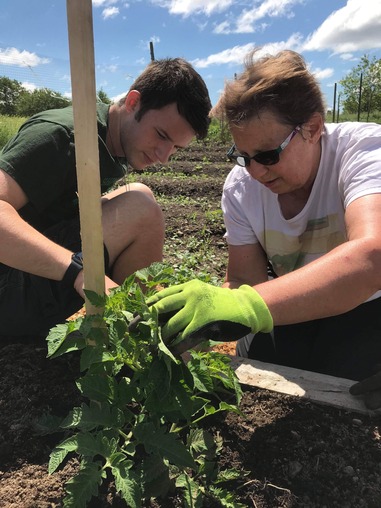 Junior Samuel Perkins helping to stake growing tomato plants.
After this week, a total of 900 pounds of vegetables has been harvested this season. Almost a half a ton of food! These students and their impressive harvest effort are definitely food for thought!
Special thanks to WA 4-H Tech Changemaker students, Juniors Paige Bell, Samuel Perkins, Olivia, Shaelea, Forrest Perkins, and Hudson Morris for their commitment to such an important community cause.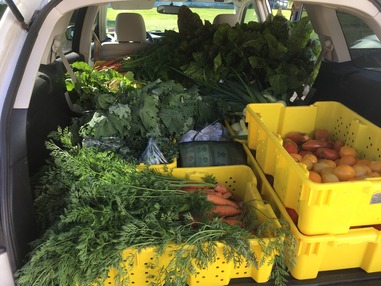 A car-load of vegetables harvested by students on Monday, September 9.
To learn more about this program visit:
http://https://www.communityfeast.org/

---

It is the end of the first full week of school and the WA Players have already auditioned and begun rehearsing for their next theatrical reproduction, The Legend of Sleepy Hollow. The cast of 15 members is being led this year by WA English teacher and theater director veteran Mrs. Johnson.
The play has piqued the interest of Drama Club veterans and even inspired new members to join the club. Three-year member Junior Samuel Somes will play the spooky lead role of Icabod Crane. New members, Sophomore Noah Carver will play Brom Bones and Freshman Elizabeth Neal will play Katrina Van Tassel.
The Players are reading lines and meeting daily in anticipation of performing The Legend of Sleepy Hollow for the Halloween time period. Performances are now being planned for area elementary schools and the Performing Arts Center at the University of Maine at Machias. Stay tuned for dates and times.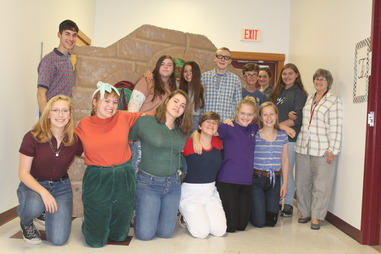 In addition to the principal roles, the complete Legend of Sleepy Hollow cast includes Seniors Gabriella Mendoza and Hailey Boutin, Juniors Vivian Noakes, Selena Williams, and Sarah Otto, Sophomores Allison Johnston, Grace Maker, and Aviva Bridges, and Freshman Owen Leavitt.
---

The varsity volleyball team is off to an impressive start this season with a perfect record of 2-0! The team has been practicing more than 10 hours a week since mid-August to prepare for a very competitive season.
Head Coach Corey Schwinn remarks, "We have a young but very talented group this year. We are improving our focus to compete up a class this year and this group is rising to the challenge."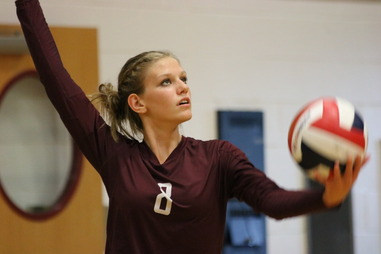 Freshman Kate Taylor serving the ball against the Woodland Dragons. PC: Heidi Schwinn
Coach Schwinn is being assisted again this year by Travis Oakes. Coach Oakes is also coaching the JV Volleyball Team. The 2019 varsity team is also being led by team captains Senior Rachel St. Louis and Juniors Morgan Schwinn and Jinny Davis.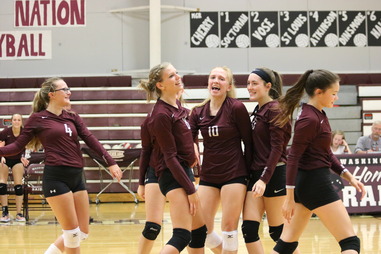 The Lady Raiders celebrating their second win against the Woodland Dragons on Monday, September 13. PC: Heidi Schwinn
Congratulations Lady Raiders on a great start and a perfect record! The team will play their next match at Yarmouth High School Saturday, September 14 at 1:00 p.m. for JV and 2:30 p.m. for varsity.
Support the Lady Raiders by checking out their complete season schedule at Raider Athletic Calendar!
---



Keep Up With Our Sports Teams
For up-to-date athletic information check out
---