---

Five Washington Academy students traveled to Lawrence High School in Fairfield on Saturday, November 16 with Mrs. Atkinson to audition for the All-State Music Festival. This annual audition process is sponsored by the Maine Music Educators Association and is an opportunity for students to audition in person in front of judges in hopes of qualifying for the Maine All-State Band, Chorus or Orchestra Ensembles.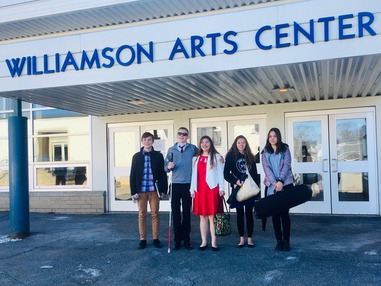 Above (L-R): Junior Nick Luuring, Sophomore Noah Carver, Freshman Sarah Neal, Sophomore Siobhan Duffy, and Freshman Cora Sanchez excited to be trying out for Maine All-State!
Vocalists Freshman Sarah Neal, Junior Nick Luuring and Sophomore Noah Carver prepared Italian Art Song "Sebben Crudele", and a 5-part Madrigal to perform in front of judges. Violists Sophomore Siobhan Duffy and Freshman Cora Sanchez each prepared a section of "Mozart's Concerto #3 in G major" as well as an excerpt from Verdi's "Nabucco Overture". All 5 students were also graded on scale performances, and on singing or playing a brand new piece of music on the spot to check their "sight-reading" skills.
Hundreds of students from school music programs all over Maine audition, and if accepted, will be invited to the UMaine campus in the Spring to rehearse and perform together for 3 days, culminating in an incredible performance with world-class conductors at the Collins Center on Saturday, May 16.
---

November is Native American History Month! In honor of the month, a beautiful assortment of seagrass baskets and beaded jewelry are being showcased in the fine arts display case in the Gardner Gymnasium.
The pieces were created by Passmaquoddy artists Geo Neptune and Frances Soctomah and loaned for display by Junior Emma Soctomah. At a very early age, both of these artists learned the art of basket making from their grandmothers.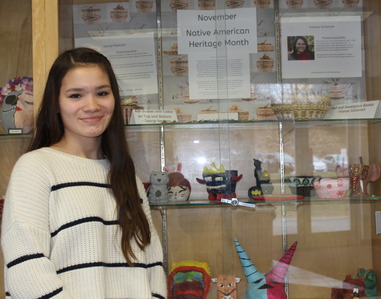 Junior Emma Soctomah posing with Passamaquoddy baskets and jewelry.
Sweetgrass is a salt marsh grass that is harvested and dried. Once dried it is soaked to make it pliable enough to be woven into baskets. Ash baskets are made from ash splints harvested from logs. Passamaquoddy basket making is an art that has been passed down from generations for several centuries.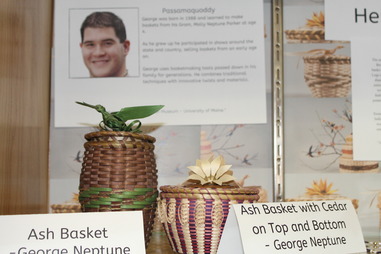 Ash baskets handmade by Passamaquoddy artist Geo Neptune.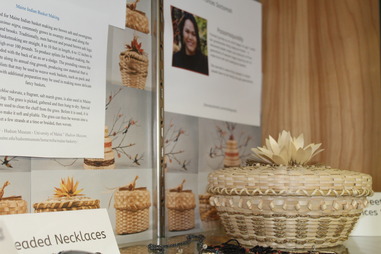 A seagrass and ash basket made by Passamaquoddy artist Frances Soctomah.
WA classrooms have also been busy celebrating the heritage of Native Americans. Modern-Day Apprenticeship students have been learning about Native American entrepreneurship and building trades, while Computer-Aided Design students have been studying canoe designs and Native American architectural styles. Honors English 11 students are also in the midst of their annual research project which includes written and visual representation of different Native American tribes.
To learn more about the work of Geo Neptune please visit https://umaine.edu/hudsonmuseum/exhibits/tt/george-neptune/
To learn more about the work of Frances Soctomah, please visit
https://www.francessoctomah.com/
---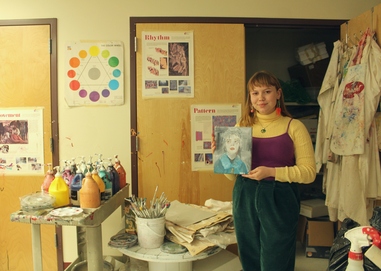 Meet Vivian Noakes!
Vivian is a junior taking Honors Art taught by Mrs. O'Leary. This advanced course is designed for experienced student artists who are preparing for a career in the arts or those who want the challenge of complex and in-depth creative thinking.
Vivian Noakes has been a student in the art room for the past three years, She has attended Art One, Art Two, Honors Art, and Digital Art. Vivian is an inspiring artist that has found a passion for oil paints as well as digital art. Her style is thick bold strokes with bold colors.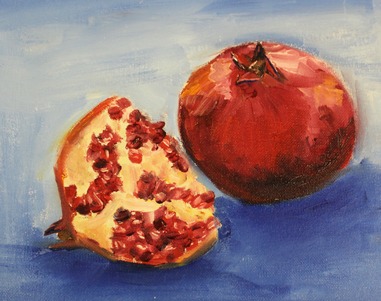 Pomegranates in oil.
She borders on the line of realism and impressionism. As a young artist, she has found her style and creates unique art compositions that are recognized as her own. She tends to work mostly with portraits but also excels in still life and the digital world.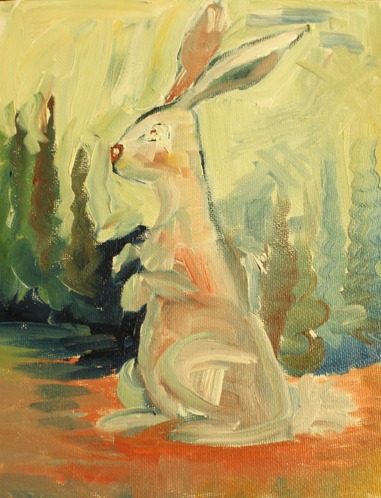 Standing rabbit in oil.
She often works on the Ipad in Sketchbook when she doesn't have the oils out. I look forward to one more year with Vivian with the hope she will work on a portfolio for her future endeavors and continue to create with her own style.
-Mrs. O'Leary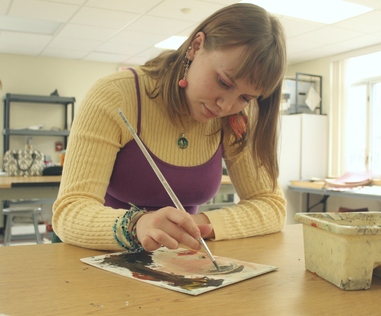 Vivian working on one of her favorite portraits.
Vivian plans to take additional art classes her senior year and hopes to one day make a difference with her art involving environmental activism. Her work will be displayed in the Fine Arts display case in the Gardner Gymnasium during the month of December. Stop by and check it out! Congratulations Vivian!
To learn more about the Washington Academy Visual Arts Program please visit WA Visual Arts.
---
Congratulations to all 1st Quarter Honor Roll Students! For a complete list of students please visit 2019 1st Quarter Honor Roll.



Keep Up With Our Sports Teams
For up-to-date athletic information check out
---