---

Head of School Mr. McBrine proudly announces the Class of 2020 honor parts, Valedictorian Mikaila Loughlin, Salutatorian Greg Moulton, First Honor Essayist Haley Cherry and Second Honor Essayist Zain Fitzsimmons. All four students are members of the National Honor Society (NHS) and received many academic achievement awards throughout their years at WA.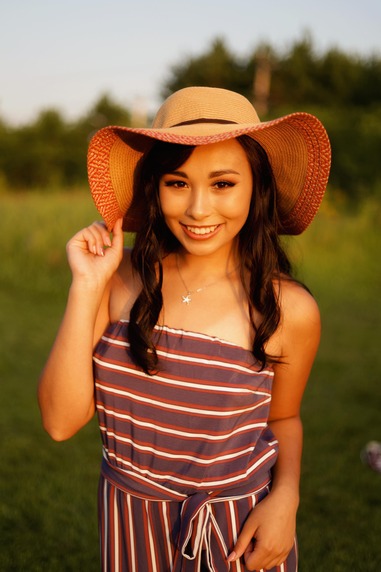 Valedictorian Mikaila Loughlin is the 2019 recipient of the National Society of Women Engineer Certificate of Achievement. She is also the WA 2019 Girls State Dirigo Delegate and the 2020 Washington Academy recipient of the Maine Principals' Association Award. Mikaila is also the vice president of the Class of 2020.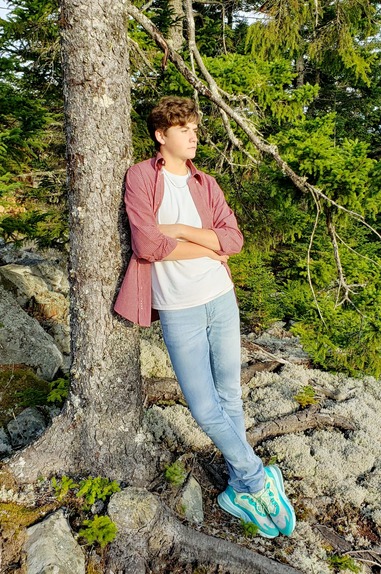 Salutatorian Greg Moulton is a 3-year National Honor Society member and the recipient of the 2017 Washington Academy Citizenship Award.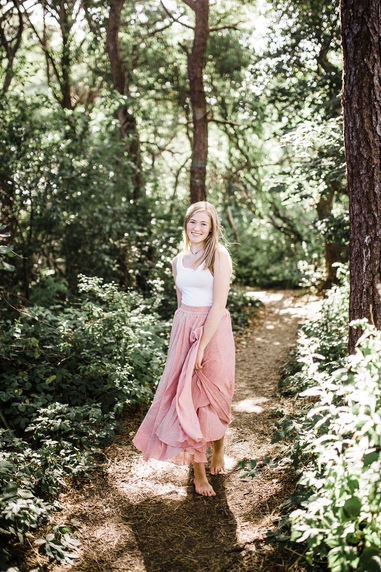 First Honor Essayist Haley Cherry is a 3-year National Honor Society member and the recipient of the 2019-20 D.A.R. Good Citizenship Award. She is the recipient of the 2016 Citizenship Award, the 2017 Kindness Award and an active member of the WA Students Teaching About Respect (S.T.A.R.S.) Club.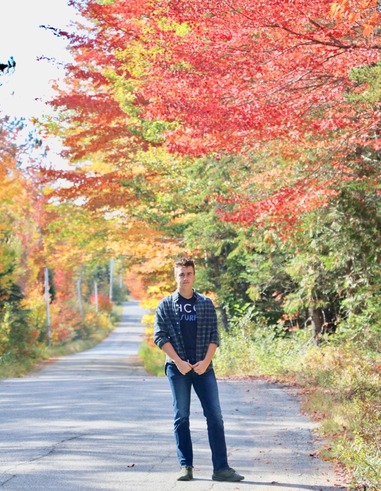 Second Honor Essayist Zain Fitzsimmons is a 3-year National Honor Society member and the 2019 Boys State Dirigo Delegate. He is the recipient of the 2017 Academic Award, 2018 Citizenship Award, and the 2019 Kindness Award.
Congratulations Class of 2020 Top Four!
---

The Maine State Science Fair (MSSF) is still on! The fair will take place this Saturday, March 28 via ZOOM! The MSSF is held annually and is sponsored by Jackson Laboratory. The event is typically held on a Maine college campus and presentations and judging is conducted in person.
This year Senior Alex Maker and Junior Alexandria Morgan will represent Washington Academy. The students have been preparing for weeks with the guidance of WA science teacher Mr. Sprangers and have been selected as 1 out of 8 MSSF finalists within their categories. The finalist selections were determined from 250-word student-submitted abstracts.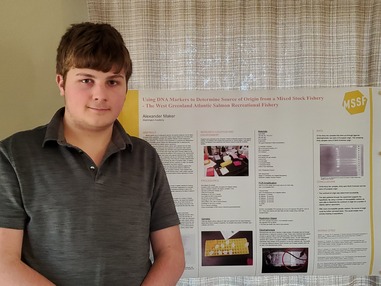 Above: Senior Alex Maker posing with his MSSF project poster. Alex has been accepted into the University of Maine at Orono Honors College and will be majoring in microbiology next fall.
Alex's project focuses on determining the continent of origin for Atlantic Salmon specimens using genetic microsatellites and mitochondrial DNA. Alex states, "This was a great project for me because it is related to the field I wish to study. I was able to work in a university laboratory with cutting edge technology. I was also exposed to procedures and practices that I would not have experienced otherwise."
Alexandria's MSSF project is titled Moving Stories: Social-Emotional Learning Skills and focuses on an expressive arts approach that teaches children social-emotional skills. Moving Stories was cultivated by Alexandria's partner Dr. Sue Carol Duffy. The method requires a storyteller to tell a specific story to a classroom and then students are encouraged to express themselves in a sand tray. Alexandria interviewed storytellers to gain feedback and evaluate the method.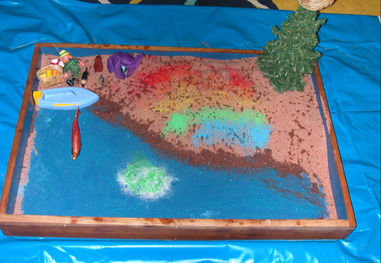 Above: A Moving Stories: Social-Emotional Learning sand tray.
Each MSSF project consists of an abstract, introduction, hypothesis, data, methods, conclusions, sources and a digital poster. Students will be instructed to enter a virtual waiting room on ZOOM 10 minutes prior to their scheduled presentation time. They will then participate in a 3-minute project introduction and a 7-minute question and answer session with MSSF judges. Winners will be announced Saturday at 3 p.m.
Good luck Alex and Alexandria!
---

In an effort to stay connected with students during distance learning, students have had the opportunity to participate in virtual locker breaks every day from 10:30 a.m. - 11:00 a.m. Director of Guidance, Mrs. Morris states, "This is a fun way to stay connected and try to reduce feelings of isolation. We don't always realize how much we get from face to face interactions until they are gone."
To kick off the week staff and students were able to show off their pets at locker break!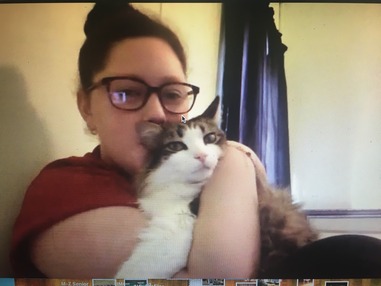 Above: Senior Logan Richards introducing her beloved cat via ZOOM.
Every day there is a different theme to go along with locker break, for example, Monday was Meet the Pets, Tuesday, Hat Day, Wednesday, Relax and Recharge, Thursday, Coffee Talk and Friday, We are Hearty (All Heart) Mainers, wear your flannel shirt, muck boots, or bean boots.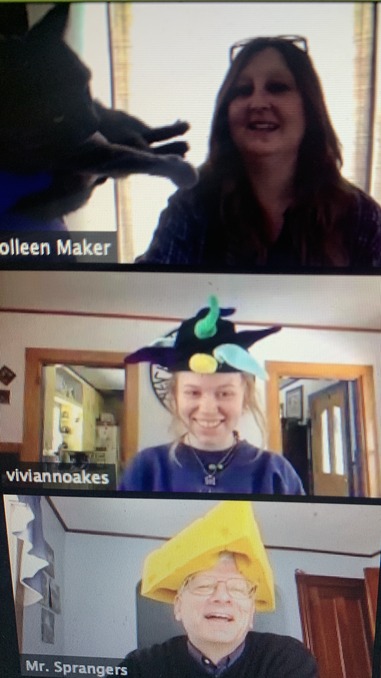 Above: Mrs. Maker, Vivian Noakes, and Mr. Sprangers during Virtual Locker Break Hat Day.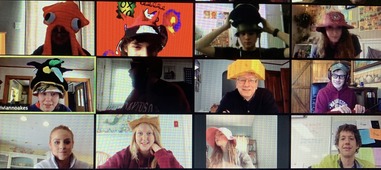 Above: Raiders connecting with one another during Virtual Locker Break!
Raiders, be sure to check your email and log in to Zoom to join the fun!
Theme Days 3/30 - 4/3
Monday, 3/30 - Manic Monday, Rock 80's fashion
Tuesday, 3/31 - Talent/No Talent Tuesday, Entertain us with a joke, sing a song, juggle, etc.
Wednesday, 4/1 - April Fool's Day, Share your best prank story
Thursday, 4/2 - Throwback Thursday, Share your favorite old photo
Friday, 4/3 - Super Hero Friday, Honoring all essential workers, doctors, nurses, truck drivers, grocery workers, etc.
---

---