---

On Wednesday, October 23, Mr. Sprangers and 14 Coastal Ecology students went into the field to stock Atlantic salmon. Over the past few weeks, the group has been diligently working with the Downeast Salmon Federation (DSF) to prepare the parr for stocking. The preparation at the hatchery included a week of helping DSF to fin clip 250,000 salmon parr.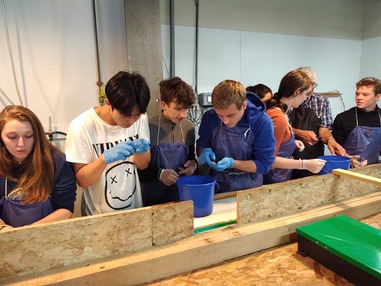 Once the fish were ready, Mr. Sprangers and his students battled torrential rain to stock 10,000 endangered Atlantic salmon to the Barrows Stream in Crawford. Barrows Stream is the same stream that the group worked on earlier this fall with Project SHARE. This collaborative project was an effort to improve fish passage through the stream.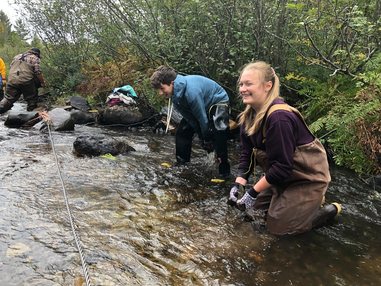 Ethan Graham and Jaimie Fairchild improving the fish passage through Barrows Stream.
At the end of Wednesday's stocking effort, Bill Green of the Bill Green's Maine show joined the group and filmed a segment that will air on the Monday, October 28 edition of the WLBZ 6:00 p.m. news.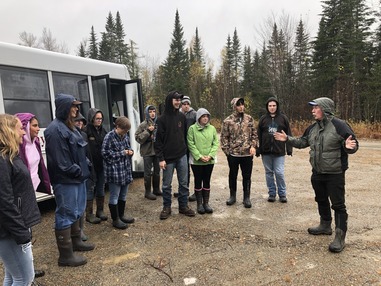 Thank you, Mr. Sprangers and Coastal Ecology students: Cartwright Blanchet, Alexis Boula, Hailey Boutin, Jaimie Fairchild, Hayden Farrell, Emma Fitzhenry, Zain Fitzsimmons, Ethan Graham, Jack Han, Natalia Kempthorne-Curiel, Chloe Lyford, Cassidy Murphy, Isaic Ross, and Marissa Wood for your impressive and meaningful contribution to Atlantic salmon conservation.
For more information about Atlantic salmon visit please visit:http://https://mainesalmonrivers.org/
---

Does your brain ever get tired from information overload? Well, Math teacher, Mrs. Chapponis has found the perfect solution to this common problem, especially when working with math problems. In an effort to provide a break from the rigors of learning math and solving problems, she is offering students an opportunity to unwind by using the other side of their brain and participating in mindful coloring!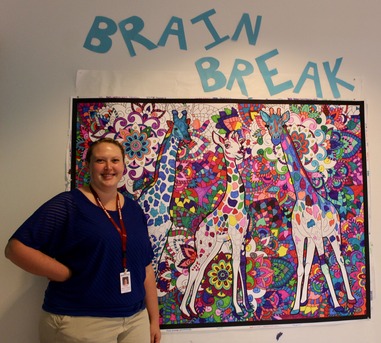 Mrs. Chapponis was inspired by an educator on Facebook who had tremendous success with the concept. At first, she was a bit nervous about whether 14-18 year-olds would be interested in collaborative coloring or perhaps would find it childish. She quickly experienced the opposite result! Students have been flocking with enthusiasm and excitement to contribute to the poster artwork. Mrs. Chapponis warmly remarks, "I love that my students are allowing themselves to still be kids, if only for a minute or two."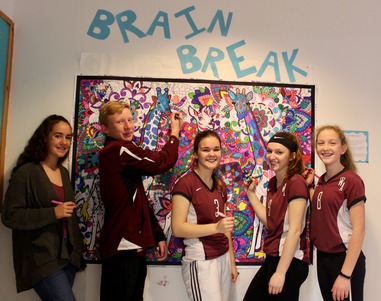 Above L-R: Ellie Claverie, Roy Duffy, Isabel Cates, Kara Lyford, and Sarah Moulton enjoying a brain break outside of Mrs. Chapponis' classroom.
The idea of mindful coloring is actually a strategy for coping with distraction and helps students to relax and give their brains a break. Ultimately, it is this break that provides clarity for students when they get back to problem-solving classwork and activities.
Mrs. Chapponis' students have already filled one poster and she is now thinking of where the second one will be located. She would also like all WA students to know they are welcome to stop by, pick up a marker, and take a brain break!
---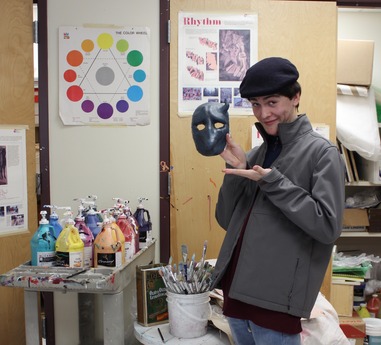 Meet Arthur Ingalls!
Arthur is a senior taking Honors Art taught by Mrs. O'Leary. This advanced course is designed for experienced student artists who are preparing for a career in the arts or those who want the challenge of complex and in-depth creative thinking.
"Arthur was in my first art class I taught at WA. He has a unique and dark style that I feel will give him the edge he needs to pursue his passion in any field of art. His unique style will also help him stand apart from everyone else's work. Arthur has taken all the art classes offered at WA. Art one, Art two, Honors Art (twice), Independent Art (twice) and Digital Art.
He is also involved in Art Club and has been working on character development in his compositions. Arthur has a natural talent, he lives and breathes creativity. His favorite projects have included the Mask, working with digital art with animation, and the anti- portrait. I look forward to seeing where Arthurs's talent and passion take him in life."
- Mrs. O'Leary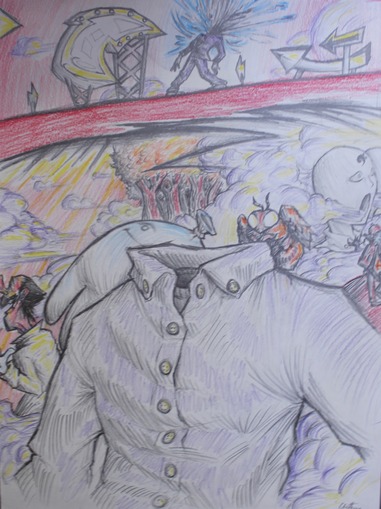 Arthur's depiction of the anti-portrait.
Honors Art students are about to begin their next project which will include listening to the Native American Abenaki story and choosing parts of the story to be created on paper with watercolor paints.
Arthur's artwork will be displayed in the Fine Arts display case in the Gardner Gymnasium during the month of November. Stop by and check it out!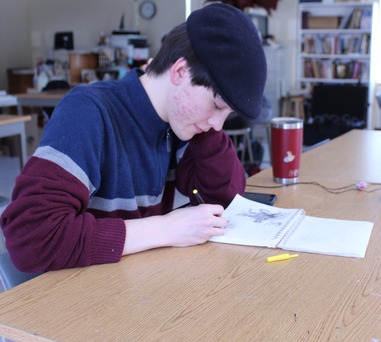 To learn more about the Washington Academy Visual Arts Program please visit WA Visual Arts.
---




Keep Up With Our Sports Teams
For up-to-date athletic information check out
---